Why Cornish Heritage Safaris?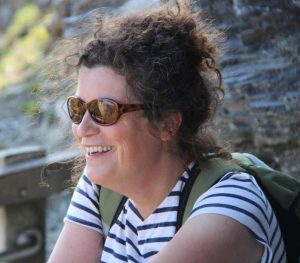 Hello and welcome to this new website for Cornish Heritage Safaris tours. Please do contact me for more information about tours and if there is anything you find needing improvement on the site – please let me know.
My name is Susan and I established the tour business Cornish Heritage Safaris Ltd in 2011.
When I share days out in Cornwall it's in the same spirit of showing my friends around. I really want you to enjoy the beauty and magic atmosphere of these unique places. Cornish Heritage Safaris is different because we travel in a spirit of exploration. Usually tours with me are a day with a local showing you their patch. But sometimes we find a place I've never been to before! I really enjoy my work and I will never stop learning and discovering. Cornwall at it's best is a wonderful experience. I like to try to make the trips rich in history and stories, all within an amazing backdrop.
It's difficult to pick a favourite place or tour, but since starting the company King Arthur in particular has grown and grown on me, I find myself fascinated by his legacy in the Cornish landscape.
Now my tours have expanded and multiplied. I travel to The Far West of Cornwall and elsewhere, I collect people from London and organise multiple days of tours. Really it's about what you want, within the constraints of what is possible. If you enjoy laughing and eating great food, then we will really get along.
I have found that I do quite a lot of driving for the tours and I do love my Land Rover. But if you would like a day of walking, then that's just as good for me and the environment.
History, Mystery and Magic
When you come to Cornwall the magic finds you, whether you are looking for it or not. Visiting sites where people believe in King Arthur and the quest for the Holy Grail, or standing in stone circles imagining their purpose lends itself to other-worldliness. My tours began with a design to visit beautiful, interesting and historic places. They have developed into an ongoing discovery of beliefs, stories and at least the possibility of magic in the landscape.
A little bit about the Land Rover Defender (Excalibur)
The last year of manufacture for these iconic vehicles was 2015 and mine is from that same year. It seats six passengers, one in the front with the driver (me), three across the middle and two in the back. The back seats fold out into full upright chairs with full safety belts. I am licensed by Cornwall Council to carry six passengers, as private hire car. If the car is full and we are staying overnight or on a transfer, it is possible to put luggage on the roof. I don't take passengers 'off road' but we can find ourselves on tracks and lanes that are very off-the-beaten-track. It's also possible to hire another larger vehicle if needed.
A bit more about me.
I moved to Cornwall in 2007. I am originally from London, and after leaving university I was employed in the public sector for eighteen years.
My academic background includes a BA degree in geography, including historical geography. When I moved to Cornwall, my ongoing interest in historic geography led me to explore the area's historic and beautiful places, and I began to discover the wonderful stories attached to them. Cornwall is a spiritual place, with a great Christian tradition sitting alongside strong beliefs in magic and pagan traditions.
When friends came to visit, I encouraged them to leave the beaches and led them off to visit the places I had found and to ponder the history and stories surrounding them. This is where the idea for the tours came from.
I am also employed part-time by the historic and conservation charity the National Trust. This ties in with my personal interests and I find, helps to inform the tours. I am a member of the Cornish Wildlife Trust, the Cornish Heritage Trust, the Royal Cornwall Museum, English Heritage and Visit Cornwall.
I am still learning and reading about history both academic Cornish history and traditional customs and beliefs, especially those related to ancient monuments and spiritual sites. As you might guess, I love wildlife, domestic animals and the environment. I confess that I also enjoys the superb locally produced food and drink on offer in Cornwall, and will be happy to share with you the best places to sample it. Do contact me to find out more about the tours.