Tours of Cornwall Suspended
The Cornwall tour season was just getting underway when the Coronavirus or COVID- 19 put everyone's plans on hold. At the moment I am not running any tours, in Cornwall or 'up-country'. The UK is now under a 'gentle' lock-down, where we can still go out and shop for essentials and take daily exercise. Unnecessary travel and group gatherings are banned. So that definitely covers tours. UK Government information here.
n fact, people are actively discouraged from visiting Cornwall, to try to stop the disease spreading and because our medical facilities will not cope with a sudden influx of sick people. The good news is Cornwall will still be here when you can make it. Visit Cornwall put this special film together to get the message out.
Supporting Charities
It's worth noting that the big attractions are all closed, including English Heritage and National Trust places. If you are a member and can afford to continue your membership and support these charities please do stay with them. We all need to support the vulnerable where we are able to. Food banks and animal charities all need help too.
Planning Future Tours
Meanwhile, on a happier note, I do intend to put some more news-blogs out with information about plans for new tours and some development opportunities for me. I'm thinking in particular about a Thomas Hardy Tour. This tour would focus on his Dorset houses and then move on to his Boscastle Cornwall connection. But it could also include the story locations, particularly those in Dorset.
I had already completed quite a lot of research, including visits, for tours all along the South Coast of England. There are so many options for stops, depending upon your priorities. My group was planning Canterbury Cathedral, Dover Castle, The New Forest, Winchester, Cerne Abbas, The Jurassic Coast and lots more. It was going to be quite a big tour!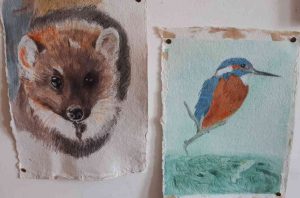 We had also just started planning for the new art tours, and were in the process of printing flyers. Inspired by the art tours, I have spent the last couple of weeks painting wildlife images for fun. Then I moved on to our garden gates – not so much fun. Time to do a bit of real work! I think the art tours will still happen. It's just a question of when…