In past times I have tended to avoid Penzance, a little town by the sea famous for 'pirates'. It's been a drive-through along the seafront at most.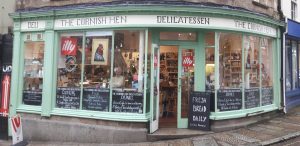 After the 2008 economic crash, Cornwall felt the chill of recession and Penzance was no exception. Tourism continued, everywhere is busy in the summer season, but Winter was a different story.
Walking through Penzance today I saw the town has great signs of revival. It would be a great place to do your Christmas shopping. There are a variety of fantastic individual and unique shops popping-up all over. 
In November 2017 I have seen the town on an almost daily basis and there are pretty shops and galleries, one off businesses and artistic endeavours.