Bodmin Moor is rich in ancient archaeology including a treasure-trove of stone circles. So my 'quick' blog entry on the subject has turned into a two day search through my photos.
Stone Circles
Archaeologists suggest that there are around sixteen stone circles on Bodmin Moor. Many of these are now in poor condition. So it stands to reason that some may have been lost over time. Now cattle and ponies use them as rubbing posts, and there seems to be little money available for monitoring and caring for the stone circles. These ancient monuments are legally protected, but they are on private land. Anyone can access the stone circles on the open land of Bodmin Moor.
Stone circles were thought to date from the Bronze Age, c. 2'500 BC to around 600 BC. But recent work on the Bluestones of Stonehenge now dates their origins to 3'300 BC. This is the Neolithic (Stone Age) period.
Perhaps stone circle building spanned cultural ages. It's hard to understand how the sophisticated Neolithic chamber tombs/dolmens could be from a time before the most basic examples of stone circles.
Across Bodmin Moor and elsewhere, the size and shape and style of the stones and their circle vary. Why they exist is also a subject for conjecture. Most people tend to settle on the ceremonial, spiritual and celestial explanations. Perhaps they were meeting places. On my tours we often dowse for 'energy' lines. I am open minded about all of the stone monuments and have had the occasional 'strange' experience. Some stone circles on Bodmin Moor have a very definite atmosphere and some stones seem special.
Excavation of a Stone Circle, Bodmin Moor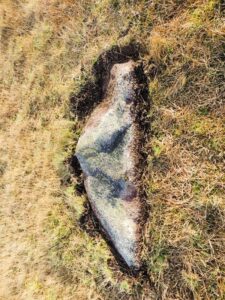 A few years ago, I helped out on a dig at one of the Bodmin Moor stone circles. We uncovered most if not all of the stones and the lead investigator took photographs and measurements. We noted the possibility of an additional circle concentric to the one which was dug. This would be a rare occurrence. But it was not in our remit to explore further and we were obliged to cover all the stones over again. Louden stone circle also contained what appeared to be a cist integral to the monument. These small burial chambers appear to be present at other stone circles and were perhaps not original to the monuments. It was tempting to see shapes in the stones, like this person?
The Hurlers Stone Circles, Bodmin Moor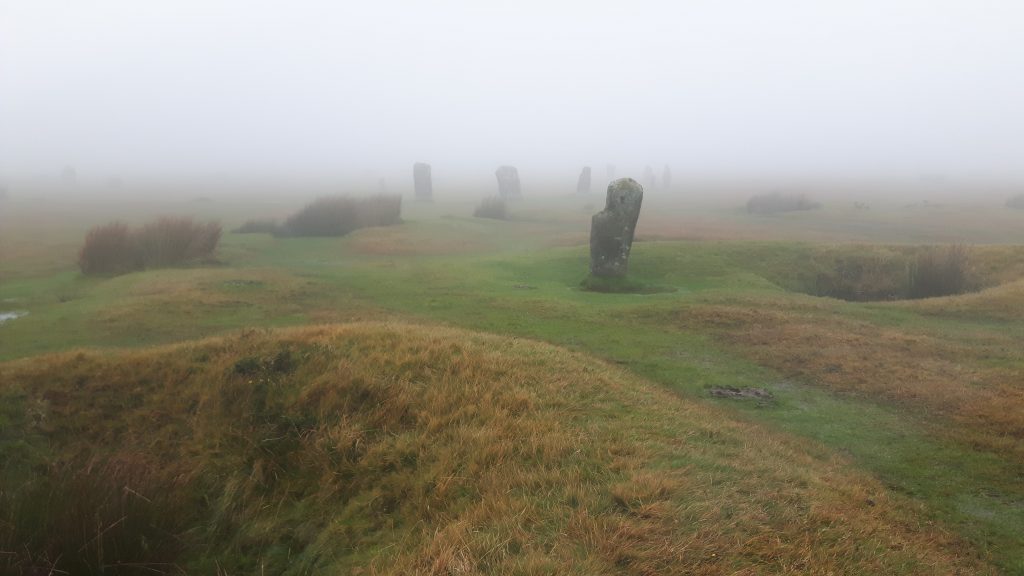 The flagship monuments in the stone circle category (on Bodmin Moor) are The Hurlers near the village of Minions. Three or probably four circles are contiguous and have been restored to a greater or lesser extent. A 'crystal pavement' is also recorded there and a pair of stones known as The Pipers. This place was also a very important mining area. There are signs of both Medieval and Industrial Age mining. The signs of prehistoric mining are more difficult to spot. Nearby Caradon hill is rich with copper deposits. So The Hurlers stand within a mining landscape and not far from Rillaton Barrow, where an ancient gold cup was discovered. When I go here with tour guests the ground seems awash with layers of history.
The Rillaton gold cup is now in the British Museum in London. It is thought to be Greek Mycenaean in style, therefore probably imported. (The handle may be a later addition.)
The cup was found when a burial chamber (Rillaton Barrow) was robbed and has a tale of a Druid's curse attached to it. The find suggests the wealth and importance of the burial.
A similar cup was found in Kent. Could they have been made in Britain?
Most of the stone circles are in sight of high points on the moor. These high places, like Rough Tor and Stowes Hill also have their own ancient archaeological features. And so the more you look and discover for yourself, the more interrelated the landscape and the stone monuments become. Going out and exploring on Bodmin Moor can reveal something different to reading about it. You may even disagree with the experts.
Neolithic Archaeology
Bodmin Moor and the surrounding area contain archaeology considered to be Stone Age. The period before the Bronze Age is known the Neolithic or New Stone Age. At Rough Tor a rare (possibly unique) Neolithic causeway curves across the landscape. On the other side of the moor, near the Caradon mining district, is Trethevy Quoit. This incredible portal dolmen (tomb with a kind of porch/doorway) is probably not in it's original state. A clever person pointed this out to me.
Other Archaeology
I'm running out of steam for this blog and there is a lot more to cover. So I'm planning a separate post on King Arthur's Hall. Perhaps the most enigmatic of Bodmin Moor's archaeological sites. The ruins of the tin and copper mining industry also need a separate entry. But for now I'll add three more images.
There are ancient stones crosses all over Cornwall. The one at Altarnun is special because St Non was St David's mother and the cross there dates to her time. It's around 1'500 years old. The church is beautiful and has famous Tudor carved bench ends.
The remains of Bronze Age villages are scattered across the moor. The image below is from Rough Tor. The villages include recognisable round houses with doorways and paving!
Finally, an image of some the mines on Caradon – modern archaeology.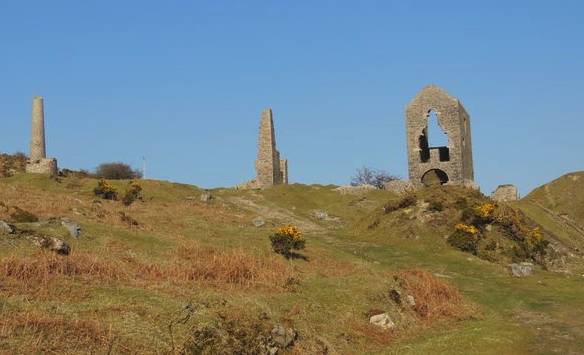 Looking for Stone Circles on Bodmin Moor
If you are going out to look for stone circles on the moor, make sure to tell someone where you are going. It is quite possible to get lost. But stone circles are not the only tangible history out there. Churches are usually easy to find. They are often on ancient sites and also near to holy wells. Some of the ancient monuments are conveniently close to car-parks. But it's wise to take a map and some extra clothes and refreshments, especially if you are going deep out into the moor. You will want an Ordnance Survey Map 1:25 000 scale, number 109 Bodmin Moor, or a technical equivalent. Or come along on a tour with me.