Who was King Arthur?

King Arthur, the "once and future king" seems to be waiting to return, held within Cornwall's dramatic and magical landscape. On this tour we can piece together fragments of his story, exploring history and legend as we go.
The more I do this tour the more fascinated I become with the idea of King Arthur and a Golden Age. A Golden Age of Cornwall instead of a Dark Age. A time when Camelot flourished, with a powerful leader controlling the mineral wealth. Like so often in Cornish history it comes back to the mining heritage.
There is magic in the air in Tintagel, despite the commercialism. The power of this ancient ruler seems to be in the very rock beneath our feet. Merlin's force also seems to linger in the crashing waves. Entering Merlin's cave can be a moving experience and not for the faint-hearted.
Tintagel Castle is a tangible link to the time of King Arthur. There are clear signs of a post-Roman settlement on the island. Now we can explore Tintagel Castle ruins in the knowledge that all is not as it seems, and that layers of history inhabit the site. Even now, new theories are being put forward about the true significance of Tintagel Island and the castle ruins. A five season archaeological dig is underway. Each summer new discoveries are being made.
Back in 1113 there was a riot in Bodmin when the visiting Canons of Laon dared to suggest that the 'once and future king' might not be alive. King Arthur meant a great deal to the Cornish, and his legacy spread through time and space far beyond ancient Kernow.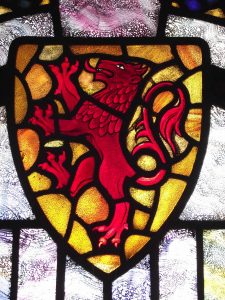 So much has been written about the legend of King Arthur, and so many places are associated with his name, that you could spend a lifetime studying the Arthurian myth. It seems that everyone I meet on the King Arthur tour adds their own inspiration, either with ideas or perhaps literary knowledge. And a Cornish King Arthur doesn't detract from a Welsh connection. Why shouldn't a powerful leader travel between the two areas by sea? There's so much to see and say, come on the tour!
So what's on the King Arthur tour?
The King Arthur Tour has expanded to five sites directly associated with a great Dark Age leader, plus three other stops along the way that I really want to show you. There is so much good stuff to see.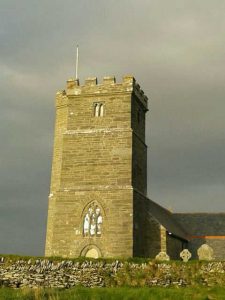 St Materiana is one of the Dark Age Cornish saints, possibly from Wales, a daughter of King Breacon. Our tour starts outside her church, perched high on the cliff. We walk all around Tintagel Castle before lunch, followed by visits to other locations central to the Arthurian story. These include the site of King Arthur's last battle, The Battle of Camlann at Slaughterbridge, and the final resting place of his sword Excalibur. On the way we can visit the site of a legend describing the spooky appearance of a round table on midsummer's night.
But that's not all. We also visit a location inspired by the Arthurian legends, but built in relatively modern times.
The King Arthur Tour now also includes the waterfall at St Nectan's Glen. It's so worth a visit and among other legends, it is associated with the knights who quested for the Holy Grail.
How much is the King Arthur tour?
If you can meet me in Tintagel, or you are staying close by, the tour only, costs a minimum of £220 for the whole day, or £55 per person for up to six people. This is for the tour only
If you would like an all-inclusive tour, please add on £60 per person, to include all entry fees, light lunch, morning coffee/tea and additional transport from the castle valley (private road).
Please contact me if you would like a quote to be collected from your accommodation. Some collection fees are shown in the shop area of this website.
Anything else?
Please note that during very strong winds — and on weekdays throughout the winter — Tintagel's castle island is closed, in which case I could take you to an alternative castle.
There are a lot of steps at the castle. Please let me know if this could be an issue.
Sometimes we swing by Jamaica Inn or another place you would like to see. Let me know and if possible I will fit it in.